2212 - Mechanical Sewing Janome

This mechanical machine features 12 built-in stitches & a four-step buttonhole. Dial pattern selection & stitch width/length adjustment. Free arm and drop feed make it versatile for all types of sewing. The perfect machine for a beginner.



Out of Stock
2222 - Mechanical Sewing Janome

Janome 2222



Out of Stock
3160QDC - 60-Stitch Computerized Sewing Janome

60 stitch computerized machine including 6 one-step buttonholes, memorized needle up/down, one handed threader, thread cutter, extension table and hard cover. Weighing only 12lbs, it is the perfect travel machine!


3160QOV - 60stitch Computerized Janome

Designed and inspired by the Quilts Of Valor Foundation, the 3160QOV will deliver all the benefits of a top of the line model, and with an affordable price. You'll find 60 stitches including 6 one-step buttonholes.



Out of Stock
4120QDC - Computerized Sewing Janome

Computerized free arm with 120 stitches including: Alphabet, 7 one step buttonholes, built in needle threader, memorized needle up and thread cutter. Includes extension table.


SALE:
$ 1,199.99

$ 799.99





5300QDC - 300Stitch Computerized Sewing Janome

300 stitch machine including alphabet stitches. Superior feeding system, needle threading, knee lift and optic magnifier set. Complete with quilting attachments, extension table and hard cover.


550E - Embroidery Only Janome

Memory Craft 550E Embroidery Only Machine. Embroidery field of 7.9" x 14.2". 180 Built in designs. 6 fonts. Extension table and 4 hoops included.


6700P - Computerized Extended Arm Janome

The Memory Craft 6700 Professional provides the speed and precision critical to advanced sewing and contains serious features for the serious sewist.


721 - Sewist Mechanical Sewing Janome

For the beginner or casual sewist, the Janome 721 has 19 stitches, needle threader, Free arm, and stitch selection dials. Check out all the features.



Out of Stock
725S - Sewist Mechanical Sewing Janome

23 Stitches1 One-step buttonhole. Built-in needle threader. Snap-on presser feet. Extra high presser foot lift. Stitch selection dials. Top loading full rotary hook bobbin. Maximum stitch width: 5mmMaximum stitch length: 4mmHard cover included


CM17 - Sewing/Embroidery Janome

The Next Generation Combo machine is here. Featuring the largest sewing area in the industry matched with the largest embroidery space. High Def Quilting, and the Fastest Sewing speeds, are just a few of the 100 reasons to love this new model.


Continental M7 - Computerized Extended Arm Janome

It has a large sewing area, providing you with the room, light, and line of sight necessary to create. The 7" high-definition, color touch screen is ergonomically placed on the machine for easy access and reading.


HD3000 - Heavy Duty Mechanical Sewing Janome

The HD-3000 is a heavy duty machine, perfect for a beginner or sewist looking to do a wide range of sewing


HD9V2 - Pro Straight Stitch Extended Arm Janome

Janome HD9 Professional. Fast speeds, smart design, sturdy construction, automatic thread cutter. These are some of the features on this heavy duty machine.


HD9V2BE - Pro Straight Stitch Ext Arm Black Janome

Janome HD9 BE Limited Release HD9 Black Edition. Fast speeds and sleek black design make the HD9BE Professional the perfect machine for sewing and quilting. Experience sewing speeds up to 1,600 stitches per minute.


MC15000V3 - Sewing/Embroidery Janome

MC15000V3



Out of Stock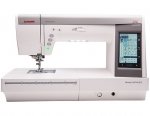 MC9450QCP - Extended Arm Sewing Janome

You deserve a machine that is as serious about your hobby as you are. Let Janome's Horizon Memory Craft 9450 QCP Professional take your creations to new heights. The MC9450 QCP has all the features you require to simply sit, relax and sew.


Quilt Maker Pro18 - Longarm w/8' Frame Janome
Out of Stock
Skyline S6 - Computerized Quilting/Sewing Janome

A spacious bed provides room for oversized quilting & home dec projects with convenience features like Automatic Thread Cutter & Memorized Needle Up/Down to save time to make sewing easier. Top-of-the-line features at a mid-level price.



Out of Stock
Skyline S7 - Computerized Quilting/Sewing Janome

240 built-in stitches, 11 one-step buttonholes & seven alphabets. AcuFeedâ"¢ Flex Feeding System & Automatic Presser Foot Lift. opening. The 7 alphabets go up to a 9mm width with revised letter size and shape for increased realism and balance.



Out of Stock
Skyline S9 - Computerized Embroidery/Sewing Janome

Skyline S9. Wi-fi capable sewing and embroidery machine. 5 Apps to make your embroidery better.